BUILDER'S STORY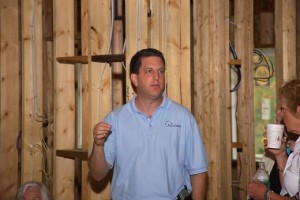 Jeffrey Bogard founded R.E.A. Homes to follow his personal passion of building custom, luxury homes with upscale and high performance features. After running a multi-million dollar division of St. Louis' No. 1 home builder for many years, Jeff felt all the pieces were in place for him to build and run his own company. His dream is to simply work closely and personally with a few select families per year in designing and building a place they will be proud to call home.
R.E.A.'s story begins with Jeff's commitment to building dream homes just one at a time, following the footsteps of his father, Daniel Bogard, who started his life's work as a home builder in St Louis in the 1950s. Jeff personally masterminds every element of R.E.A. Homes — orchestrating the best sites, architectural designs, trade partners, craftsmen, construction, building materials, project management, financing and, most of all, customer needs to build fine, luxury homes at the most reasonable prices possible.
Jeff has led home building and development projects throughout greater St. Louis for nearly 30 years. He specializes in high-end, custom-built homes in some of the city's most picturesque neighborhoods. As a second-generation home builder in St Louis, Jeff understands the needs and wants of today's home buyers. Typical R.E.A. Homes range from $1,000,000 to $10,000,000 plus.
June 2009, Jeff received his Certified Green Professional (CGP)™ designation. Administered by The National Association of Home Builders, the program recognizes builders, remodelers and other industry professionals who incorporate green building principles into homes. Most recently he earned the credential of LEED Green Associate from the U.S Green Building Council. Considered the Gold Standard for energy efficiency, indoor air quality and overall construction practices, Jeff transfers his knowledge of these practices into every project he completes resulting in superior high performance homes that define true luxury for all REA Homes clients.
In April 2014, Jeff received his Master Certified Green Professional (MCGP) designation. Administered by The National Association of Home Builders, and exclusively for experienced building industry professionals, Jeff has become one of a very small and elite group of builders across the country committed to this kind of building excellence.
Jeff is committed to sharing with consumers his knowledge of the increased performance and health benefits of green homes.
More About Jeff
A native of St. Louis, Jeff Bogard and his wife of 30 years have three children and reside in Creve Coeur, MO. The "R.E.A." in the company's name represents the first initials of his three sons. Jeff was born and raised in St. Louis and is a graduate of Parkway Central High School. After graduating from the University of Kansas in 1988, he chose to return to St. Louis because he believed it was and continues to be an excellent place to raise a family.
By this time, his father, Daniel Bogard, had just retired from home building, but arranged a job interview for Jeff with McBride & Son Homes, the largest builder in St. Louis. While Jeff had never officially been an employee in his father's home building company, he grew up in the business and was ready to take his spot as a second generation St. Louis home builder.
After a few years at McBride, Jeff was offered an opportunity to be a part of a new McBride start-up company called Vantage Homes. As one of its first employees, Jeff helped the company grow to a $100 million operation. He wore many hats at the company, including laborer, construction supervisor, salesperson, project manager, and finally served as general manager for many years.
While Jeff had a vision for building custom, luxury homes with green features, his belief was only reinforced when his young sons commented about the "crazy amounts of trash" generated from just one home being built. Jeff realized that his passion for building environmentally-friendly luxury homes was a foundation that would last for generations.
Jeff is a former board of directors member of, and current active member, in the St. Louis Home Builders Association, member of the HBA Custom Home Builder's Council, member of the U.S. Green Building Council, member of the National Association of Home Builders, and holds the NAHB Master Certified Green Professional designation as well as the LEED Green Associate designation.
Today, as he operates R.E.A. Homes, LLC, Jeff and his team bring St. Louis' foremost building practices and two generations of his own family tradition into one foundation.