"Home buyers expect more from their homes' performance and they are realizing that there is so much more to luxury than just the facade of the home. Today's home buyers understand that what's behind the drywall is just as important as what's in front of the drywall."
Jeff Bogard: Reflections on R.E.A. Homes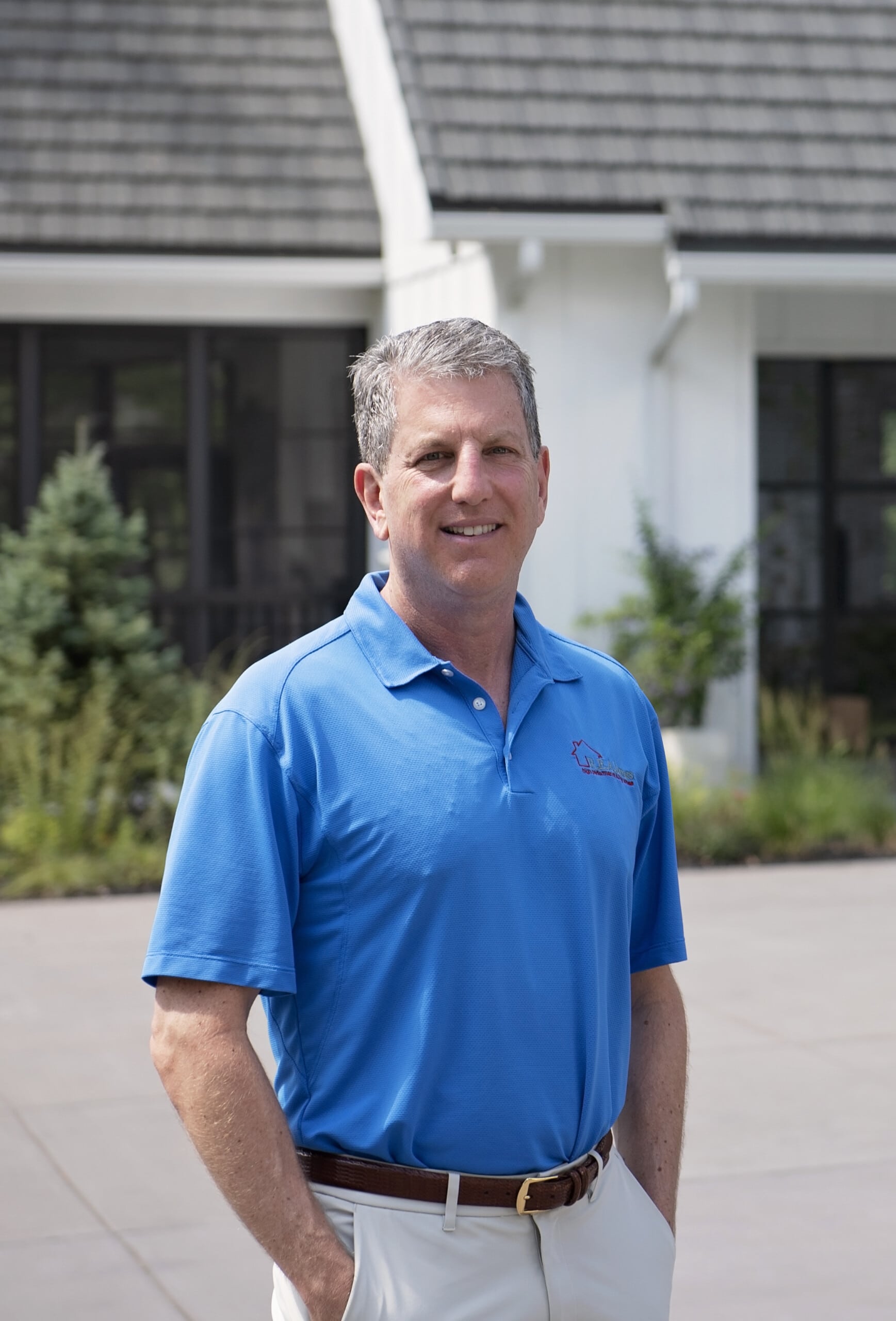 Q: Tell us a little bit about why you started R.E.A. Homes.
Jeff: After working 17 years with a home builder learning the home building business, I began to feel it was time to move on and move up. I had a spark of an idea that was radical in 2007: I wanted to focus on the custom luxury home teardown/infill market in St. Louis specializing in more energy-efficient "green" homes. The green building movement was just starting to take root across the country and I knew I wanted to pursue that method of building. Green building has always been about using nationally recognized best-building practices, so it only made sense to me that the luxury market would demand this.
I remember well my conversation with my wife about the idea. I know exactly where each of us was sitting on the couch in our hearth room in July 2007. She was incredibly supportive and encouraged me to venture out on my own. We still have the couch and often remark about not being able to part with it because of its sentimental value.
Q: How did you feel when you decided to take that leap and start your own business?
Jeff: It was terrifying and exhilarating, but also a logical progression of my career. My father had owned and run a home building business during my childhood. After spending 17 years learning the home building business while working for someone else, I felt I had maxed out my potential there. With the ENERGY STAR program just getting off the ground, I had an inkling that I could build a business around green building and high performance luxury homes. Homes have been built in pretty much the same way across the country for 50+ years. It's only in the last 10 years with green home building movement that experts started to understand many of the reasons behind why traditional construction methods often produced less-than-optimal results.
Q: What does R.E.A. in R.E.A. Homes stand for and how did it come about?
Jeff: As my wife and I were discussing what we would name the company, we focused on what was important to us. One of our main priorities was a quality of life for us and our three children. We wanted to incorporate the names or initials of our kids. So we took the first initial of each of our children and came up with R.E.A. Homes.
Q: So you had a name, then what?
Jeff: I'd been thinking conceptually of custom home building, and specifically focusing on building more energy efficient, more comfortable, and healthier homes. Long before starting R.E.A. Homes, I had built my own home on an infill lot using traditional methods. About the time we started the business, a house on our street went up for sale. I knew it would be perfect for a teardown/infill new home. We bought the home, tore it down, and built a spec home that was one of the first green certified luxury homes in St. Louis. It was a chance to demonstrate to the public what was possible even with the limited green products and systems available at that time.
During the year it took to design and build the spec home, we experimented and incorporated features that, at the time, were cutting edge. It was the launching point and laboratory for R.E.A. Homes.
In the beginning, we built one or two homes a year. Since then, we have progressed to building three to five homes per year. Our portfolio includes homes built healthier, more energy efficient, and comfortable. Many are certified by nationally recognized third-party green programs such as ENERGY STAR and its sister program called Indoor airPLUS.
What we've found is that every year as we build more homes, more and more people have become aware of our methods and can see the superior results. Home buyers expect more from their homes' performance and they are realizing that there is so much more to luxury than just the facade of the home. Today's home buyers understand that what's behind the drywall is just as important as what's in front of the drywall.
Have you ever thought about what's behind the drywall? It's important to understand just how critical your home's insulation, heating/cooling systems, and overall shell are to its performance and success. Attention to the details that no one sees results in maximizing comfort and minimizing problems such as hot spots, cold spots, drafts, rooms that don't heat or cool properly, higher-than-necessary utility bills, and indoor air quality issues.
R.E.A. Homes hasn't completely eliminated all of these issues but we've certainly minimized them. Every year we get better at what we do, and every year homebuilding technology, systems, and materials improve.
It takes a while for the market to catch up with the demand for specialized products and systems. For example, differences between the heating and cooling systems that were available 10 years ago and today's heating and cooling systems are night and day. New home technology advances are making homes dramatically "smarter" than homes built 10 years ago, 5 years ago, or even just last year.
The exciting thing is the increasing demand for our type of homes is resulting in major manufacturers bringing new products to market every year. Unfortunately, the majority of custom homes still don't get built using these advanced products and building methods. R.E.A. Homes is committed to using these products and methods whenever and wherever possible. While we know we're catering to a relatively small niche in the marketplace, R.E.A. Homes has grown every year since our founding. The fact that the public doesn't demand more comfortable, more energy-efficient, lower-maintenance homes for all new home construction is mind boggling to me. But that's OK, because it allows us to be the leader in this niche and attract people that appreciate what we do.
Q: What challenges have you faced over last 10 years?
Jeff: It's still the same challenge: Educating potential clients on how and why building a High Performance Luxury Home℠ is superior, yet not much more expensive than traditional construction. We describe what we do as Building Beyond the Code. Every year we get better as the systems and the products in the marketplace get better.
With each passing year, we have found that home buyers are more educated about and interested in the kinds of homes we build. Those looking for a better-made home in St. Louis seek us out because they understand what it means when a builder like R.E.A. Homes chooses to build beyond the code verses standard construction techniques.
But, we've found we are not for everyone; it is not our intent to build everybody's home. Our clients are usually very open minded, educated, and understand and appreciate the differences we bring to the table.
Q: How have R.E.A. Homes High Performance Luxury Homes℠ improved over the years?
Jeff: There's no substitute for experience building these types of homes. We've improved as the products, services, and body of knowledge have improved. There are some pretty dramatic differences between what we knew back in 2007 and what we know today. Still, an R.E.A. Home built 10 years ago is ahead of the curve when compared to a home built just to code during that same time period.
In addition, national manufacturers have seen demand increase for better materials and products. They've gotten on board with producing more efficient and longer-lasting products including better HVAC equipment and insulation materials and systems.
Q: Are there partners who have helped or influenced you?
Jeff: Yes. The single greatest thing we bring to the table is the team we use to build a custom luxury home. Without the trade partners with whom we've formed strategic partnerships with over the years, we couldn't deliver the kind of houses that we do. There are a limited number of trade partners who can perform at the level that we need. Since 2007, we have been assembling the team members we want to work with when building a home.
Q: Outside of your work partners, are there other people who have influenced you?
Jeff: For sure my wife and children. There have also been several key people and community leaders who believed in us and what we are doing. Those in the real estate and architectural communities have embraced what we do.
Q: Do you have any advice you'd like to share from your experience?
Jeff: There's something to be said for finding your passion and pursuing it because most of the time it doesn't feel like work. Having had this opportunity to serve clients like we have has been an honor. There's something very satisfying about a career in providing shelter to others, especially the one-of-a-kind luxury custom residences we build.
It's also important to stay focused on what you do. No one will ever be as excited or as passionate about your vision as you. If others thought what you were doing was a great idea, they would probably be doing it themselves. There's a balance between finding what you're passionate about and at some point just jumping off and going for it.
Q: Looking at the houses you've built, do you have a favorite?
Jeff: Not really. My favorite part of my business is the friendships that grow out of my interactions with most of my clients. In some cases, I spend as much time—and occasionally more—with clients than I do with my own family. So you really get to know people on a level that you wouldn't otherwise get in most other business transactions. To this day, I remain friends with many of my clients.
Q: When have you felt proud of where you've come from and what you've accomplished?
Jeff: The most satisfying time occurs at that first visit back to a home once a family moves in. It's great while the home's under construction but until you see it being lived in and used—children's art on the refrigerator door and baseball cleats in the cubby off of the laundry room—and the idea that the house is truly home to the family…that is so satisfying.
Q: Is there anyone you'd like to thank?
Jeff: Definitely! My wife and kids for believing in and supporting me. I'd also like to thank all of my trade partners—they are a key extension of my business. At the end of the day, R.E.A. Homes is providing a service and an experience. I couldn't do that without them. And last, but certainly not least, I want to thank my clients. Without their passion and demand for High Performance Luxury Homes℠, R.E.A. Homes would cease to exist.
Q: Do you have a vision or dream for R.E.A. Homes' in the future?
Jeff: We will never be satisfied with maintaining the home building industry's status quo. Our team is constantly seeking additional education and training in home building's best practices and products. Our culture of excellence means we're always looking for home building advancements—both in the United States and worldwide.